Discover more from GE20Watch
Stay updated on the latest news about Singapore's next General Election!
A New Hope: WP wins another GRC while the PAP drops to a 61% vote share
I hope the cockles of your heart are warmed
Hello and welcome to GE20Watch's post-election round-up!
Who expected that, eh?
In case you've somehow been living under a rock, the PAP clinched 61.24 per cent of the popular vote and 83/93 seats in Parliament, gaining a supermajority yet again. However, this is a sharp drop from the 69.9 per cent that the PAP garnered in 2015. And, at the first time of asking, the WP won Sengkang GRC with 52.13% of the vote, dumping out the PAP team led by labour chief Ng Chee Meng.
Any way you want to spin it, this is a clear message from Singaporeans to the ruling party. Going into the election, which took place under the backdrop of a global pandemic, the common belief was that the PAP would ride a 'flight to safety' to victory, and that an 'opposition wipeout' was likely.
Instead, the WP have now expanded their presence in Parliament, with the PAP suffering their third-worst vote share since independence. A look at this spreadsheet of overall results will tell you that across the board, there was a large swing of votes towards the opposition. The message from the voters is clear: we want better.
While PM Lee called the results a 'clear mandate', he also noted that the results reflected a 'pain and uncertainty' that Singaporeans faced during the crisis. He also officially acknowledged WP chief Pritam Singh as the official Leader of the Opposition and promised the government would provide him with 'appropriate staff support and resources'. While it is unclear what this would look like moving forward, it is a clear acknowledgement of WP's increased stature in Parliament, and a move towards a two-party system. It also means more will be expected of WP, who now have to show they can present viable alternatives in addition to being a check-and-balance.
To see the results in every constituency, check out this nifty interactive page by The Straits Times. Here are the results at a glance: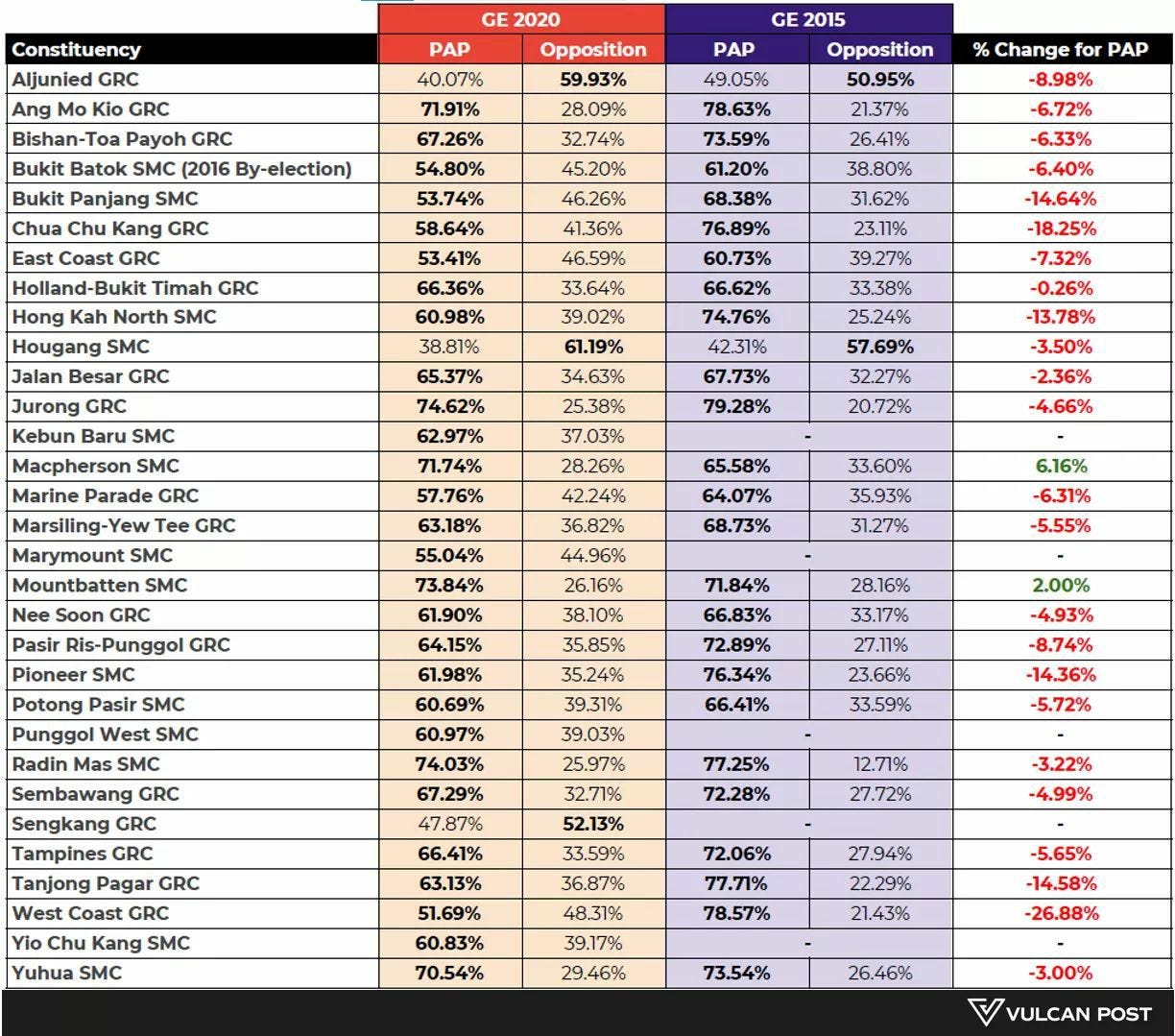 Let's delve into certain key results.
---
Workers' Party gain a second GRC
In a shock result, the WP team of He Ting Ru, Jamus Lim, Raeesah Khan, and Louis Chua emerged victorious in the battle for Sengkang GRC with 52.13 per cent of the vote, dumping out NTUC Secretary-General Ng Chee Meng, former Senior Minister of State for Health and Transport Lam Pin Min, former parliamentary secretary Amrin Amin, and Raymond Lye.
The GRC, which was newly carved out of Pasir Ris-Punggol GRC and combined with the former Sengkang West and Punggol East GRCs, is composed of a relatively young demographic, with over 60 per cent of residents under the age of 45. The WP team fielded is also relatively youthful, with all four members having young children under the age of four. This endeared them to residents in the area.
Members of the WP team had also made waves during campaigning, with Lim gaining plaudits for a stellar debate performance and warming the cockles of everyone's hearts, which he cheekily acknowledged in his victory speech:
while Khan became embroiled in a police investigation over former past social media posts. The latter apparently did not have a big impact on residents' impressions of the WP team, and with a PAP statement on the issue being condemned by many, this can be interpreted as a clear message by Sengkang residents that they have faith in the team.
All eyes now will be on this youthful WP team and whether they can deliver. As Lim pointed out, the PAP shouldn't be given a blank cheque, but this applies to themselves as well. Without the benefit of experienced parliamentarians like Low Thia Khiang heading the GRC (as he did in 2011 with Aljunied), they will need to get up to speed quickly. What Sengkang giveth, they can also taketh away in 5 years time.
---
The East Coast Plan worked…but at what cost?
Meanwhile, the hottest constituency to watch in this election ended with Heng Swee Keat guiding his East Coast GRC team over the line to beat the WP team led by Nicole Seah, winning 53.4 per cent of the vote. While it is a disappointment for Seah yet again after her close fight with Goh Chok Tong in Marine Parade GRC in 2011, she and her team can take heart in a strong performance and managing to push Heng and his experienced team all the way.
For the PAP, the gamble in putting PM-designate Heng in such a hotly-contested GRC seems to have paid off, as it is unlikely they would have held on to the GRC if he had not made the move over. We can't conclusively confirm this until we have opinion polls; however, 53 per cent is a tenuous hold on the GRC, and more importantly, is no mandate for a future PM. It is a full 7.3% swing from the 2015 result (60.7) and 1.4% less than 2011 (54.8). This makes it the PAP's worst performance in the GRC yet. Again, it may have been worse if Heng was not there, but this shows there is a significant lack of confidence in Heng's touted premiership. As such, the leadership succession is now thrown into uncertainty.
In the other seats that they contested, the young WP team won a credible 42.2% of the vote in Marine Parade GRC against an experienced team led by Tan Chuan-Jin, while new candidate Tan Chen Chen obtained a respectable 39% against Sun Xueling in Punggol West SMC. The WP even increased their vote shares from 2015 in Aljunied GRC and Hougang SMC, winning 59.9% and 61.2% of the vote respectively. And for the first time, WP won a majority (50.49%) of votes in the seats that they contested, the first opposition party to do so since the PAP themselves in 1955, when they were the opposition.
These results can be seen as an unambiguous victory for WP and the cherry on top of an excellent campaign. From start to finish, the WP conducted a clean campaign, carried out leadership renewal, and even made electoral gains, all in the midst of an election during a global pandemic. They gained an influx of youth support, and now have young candidates primed for a second run in 2025. They will now have to walk the talk in Parliament and build on the momentum to grow a party that can pose a viable governing alternative to the PAP.
---
Close, but no cigar for the Hypebeast Ah Gong
The PSP's first outing ended without any seats in Parliament, as Dr Tan Cheng Bock's West Coast GRC team narrowly lost with 48.31% of the vote share. However, as the best performing 'loser' among the opposition teams, they will be given 2 NCMP seats. Tan has already said that he would not take up a NCMP seat, but would not stand in the way of his other party members taking them up. If they only take up one seat or decline both seats, the seats will then be offered to WP's East Coast GRC team.
Despite not gaining any seats, the PSP won a respectable average of 40 per cent of the votes in the constituencies they contested. The 48% that Tan's team won is a 26.9% swing away from the result in 2015, perhaps the largest swing in Singapore's electoral history. The team in Choa Chu Kang GRC gained 41% of the vote share, a very credible 18.3% swing away from the 2015 result as well. And in the newly carved out Marymount SMC, former army psychologist Dr Ang Yong Guan won a surprising 45% of the vote against Gan Siow Huang, Singapore's first female general.
As a new political party, these results indicate that the PSP can be an opposition force to be reckoned with, and if they take up the NCMP seats, can begin to establish themselves in Parliament. However, questions will be asked whether the 80-year-old Tan can continue leading his party into the next election, and whether the party has succession plans in store when Tan eventually steps down. Tan undoubtedly had an effect in West Coast and a down-ballot effect in the other GRCs, so to maintain this momentum, the PSP will have to prove it can institutionalise itself in the opposition scene, and that it is not a flash in the pan.
But in the meantime, we can enjoy Hypebeast Ah Gong:
My grandson's friend edited a video for me. Thank you Teresa Elizabeth for your nice video. I appreciate it.
---
Respectable showing for the SDP
The SDP were also unable to gain any seats in Parliament, but SDP chair Dr Paul Tambyah came close with 46.2 per cent of the vote in Bukit Panjang SMC against the PAP's Liang Eng Hwa. Secretary-general Dr Chee Soon Juan won 45.2 per cent in Bukit Batok SMC against the PAP's Murali Pillai.
Chee had won 38.7 per cent against Pillai in a 2016 by-election, so this result shows a significant improvement. Tambyah's 46.2% is also a significant improvement from the 31.6% won by Khung Wai Yeen in the same seat in 2015. Tambyah's status as an infectious diseases expert surely played a role in influencing the voters as well.
These results indicate that Chee's rehabilitation is almost complete, and that more voters are willing to trust him. Fielding their two leaders in SMCs almost paid off for SDP, and they will be sure to repeat this strategy in 2025.
---
Other notable results
The PAP's Tin Pei Ling was one of only two PAP members to increase her vote share against a tidal wave of opposition gains (the other being Lim Biow Chuan in Mountbatten SMC), winning 71.7 per cent of the vote against the PPP's Goh Meng Seng. This is a 7.4% increase from her 2015 result. Tin has come a long way since 2011, where she was criticised for the youth and inexperience, and has reportedly put in the work in her constituency, Macpherson SMC, gaining a lot of popularity with voters there. It also shows that Singaporeans do not vote blindly, and are willing to reward politicians who put in the hard work.
The three-way fight in Pasir Ris-Punggol GRC ended with the PAP team led by Teo Chee Hean winning with 64.1% of the vote. The SDA ended up with 23.6%, while the PV gained just 12.1% of the vote, forfeiting their deposits. The other three-way fight in Pioneer SMC was won by the PAP's Patrick Tay with 61.9% of the vote, while the PSP's Lim Cher Hong won 35.2% and independent candidate Cheang Peng Wah with 2.7% of the vote, forfeiting his deposit.
The RP team led by Kenneth Jeyaretnam in Ang Mo Kio GRC won 28.1 per cent of the vote despite Jeyaretnam being on Stay-Home Notice throughout the entire election period and the team only sending two members to the Constituency Political Broadcast. And in the battle of the most disliked candidates in Jalan Besar GRC, the PAP team led by Josephine Teo won with 65.4 per cent of the vote against the PV team led by Lim Tean, who ended with only 34.6 per cent of the vote. The real loser of that contest, though, was the Jalan Besar residents, who signalled their discontent with 2.98% of spoilt votes, the highest among the GRCs.
---
What's next?
No one could have blamed you for not predicting this result. The PAP won the election by a comfortable margin, but it is a pyrrhic victory, ceding yet more ground to the WP and suffering setbacks in several constituencies, damaging the mandate of PM-designate Heng Swee Keat and his 4G leadership. All this while in the middle of a global pandemic and economic crisis.
Sengkang GRC can be seen as a microcosm of the youth sentiment in Singapore, and the youths have signalled that they will no longer tolerate the knuckle-duster politics of the PAP that served the party well in the past. The PAP will need to reflect and do some soul-searching in this 'new normal'. Private conversations I've had with PAP members indicate there is some disjunct between the PAP youth and senior party members, and that if they do not fix this, they will be in trouble in the next few elections, as Gen Z comes fully of age.
Meanwhile, this election has signalled the WP as a force to be reckoned with. A young team led by Pritam Singh shored up their youth support, which delivered them electoral gains. As ST's Han Fook Kwang points out, their support is derived from the same fundamentals as the PAP (presumably when they started out): 'Sound leadership at the top with a clear plan on how to grow and strengthen the party.' Several steps that their candidates took, such as stressing their youth and status as young parents, stating their pronouns in their Twitter bios, and meme-able moments (okay enough about cockles, Jamus) endeared them to young voters, and will only serve them well moving forward as Gen Z matures.
The real winners of this election, however, must be Singaporeans. A bruising election culminated in a satisfactory outcome for most: the PAP with a supermajority and mandate to govern, but humbled and forced to reflect, while the opposition makes further inroads into Parliament. As I noted, youth political participation and engagement has never been so high before and sets a precedent for future elections. With Pritam Singh assuming the role of the first official Leader of the Opposition in Parliament since independence, Singapore is now moving towards a more formalised parliamentary democracy.
But we have to be constantly vigilant to maintain this maturation of our political system moving forward. Civil society must grow and build political literacy amongst the populace, and people should volunteer for political parties they want to see succeed. Singaporeans have shown that they will no longer endure the gutter politics and domineering, elitist and technocratic governance style of the past. Diversity and inclusion must be the way forward.
---
And that's it from me! If you've made it this far, thanks for sharing this journey with me. It's been a wild ride, and I hope this newsletter has taught you a few things! I will now go back to focusing on my day job, but never say never, I might be back in five years ;) Wishing everyone good health as we ride out this pandemic and economic crisis, and remember to be nice to each other. May we always dare to hope for a better future.
Signing off,
GE Watcher