Jamus Lim impresses while Chee tussles with an old nemesis
Twitter, you may now simp for Jamus
Welcome to another edition of GE20Watch. We're thick in election hustings, and there's just been a deluge of election news! Exciting times, eh?
The past two days have seen fierce electioneering, as parties have been busy reaching out to voters both online and offline. With parties having to split their time between conventional methods of outreach such as walking the ground and newer methods such as livestreams, it can be hard to keep up with what's going on. Check out this spreadsheet that is being updated daily with events, and subscribe to their Telegram channel for push notifications.
Let's delve right into it!
---
Singaporeans find their new Opposition sweetheart
The first televised live debate of the election was held on Wednesday night between the PAP, WP, SDP, and PSP. Foreign Minister Dr Vivian Balakrishnan repped the PAP, Dr Jamus Lim repped the WP, Dr Chee Soon Juan repped the SDP and the doctorate-less but nonetheless experienced Francis Yuen repped the PSP.
The first half of the debate featured each party member sharing how their party would create jobs, improve social mobility, and help SMEs tide through the Covid-19 pandemic. It was honestly a snore-fest.
Things got feisty in the second segment, however, with each opposition party member getting to ask Balakrishnan a question, and him getting to ask each party member a question in return.
Turning to Lim, Balakrishnan told him that he had read WP's manifesto and that the PAP 'could have written the same manifesto', and that it was why people called the WP 'PAP-lite'. He put it to Lim that the WP was basically adopting the PAP's policy agenda and taking a 'half-step to the left'. He then asked how WP would juggle the trade-offs and who would pay for their policies.
Swiftly rebutting Balakrishnan, Lim said that the WP did not necessarily object to policy for the sake of objecting, and that they only sought the 'right policy'. He underscored that WP had 'done the math' in the manifesto and that it was 'budget-neutral'.
Then, delivering perhaps one of the best lines of the night, he laid out how the PAP tended to side 'on the side of capital', and that Singaporean workers received a lower share of labour income (42 cents per one dollar of national income) compared to other countries, and that WP believed that a rebalancing of that share was necessary.
Lim then questioned the PAP on the efficacy of its policies, especially with regards to the large stimulus package for the crisis, and cited the example of the lack of productivity gains despite the PAP's policies. He also touched on social mobility and the education system (which he opined was an issue that 'warmed the cockles of [his] heart'). Finally, in his closing statement, he said:
Now the PAP has argued that this election is really about giving them a mandate to bring the country out of this crisis, and they need this mandate in order to do so. The truth is, the PAP in all likelihood will have this mandate by the end of this election, and I think what we are trying to deny the PAP isn't a mandate, what we're trying to deny them is a blank cheque.
Wow.
Lim's ability to hold his own against a seasoned political veteran such as Balakrishnan and effervescence during the entire debate (he was positively beaming by the end) won him plaudits from both sides of the political aisle, and, as expected, spawned many memes.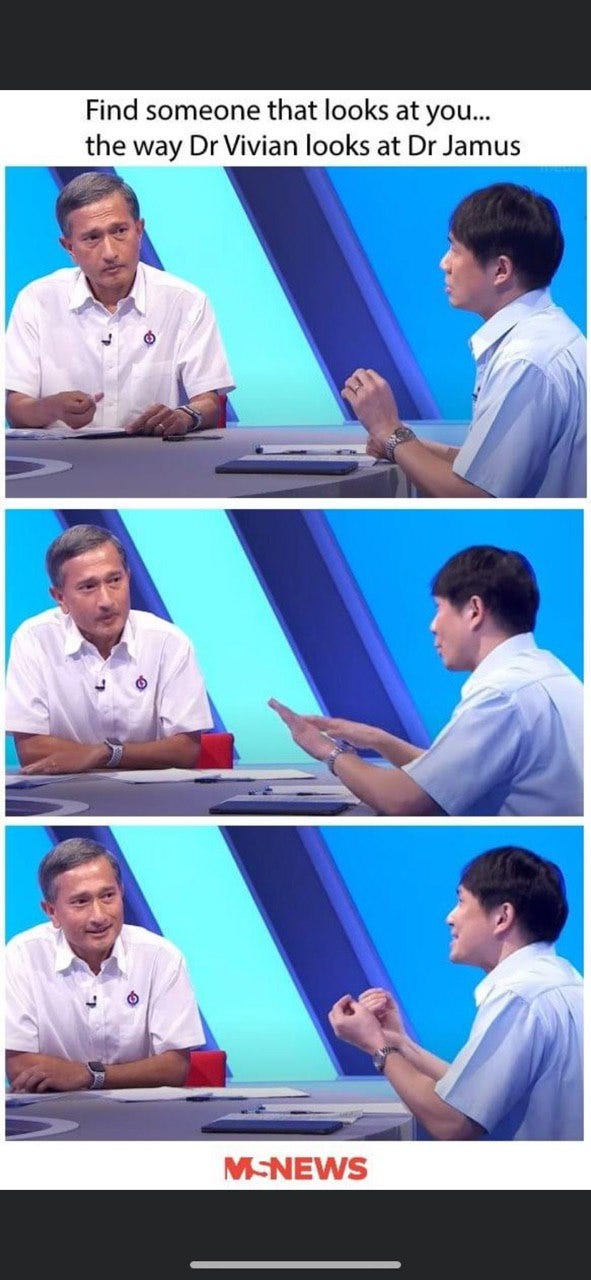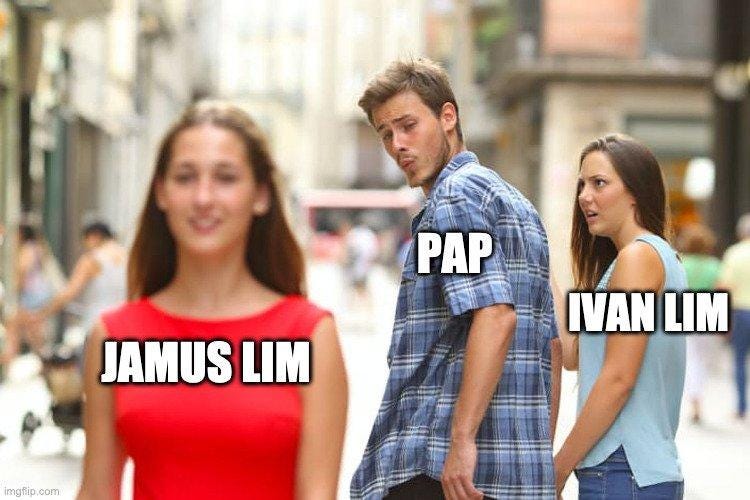 WP chief Pritam Singh also rebutted Balakrishnan's claim that the WP was 'PAP-lite', calling it 'an electoral ploy', and said that he hoped the PAP took up all of their manifesto points if they really thought so. He also said that the 'proof of the pudding is in the eating' and that WP MPs had filed questions on the Keppel Marine scandal when the PAP had not, setting themselves apart from the PAP.
While political scientists have noted how the opposition parties in Singapore largely function under the PAP's political hegemony and hence Balakrishnan is not entirely wrong to label the WP 'PAP-lite', WP's manifesto does contain some bold policies that are definitely not on the PAP's radar (abolishing the GRC system? I'd like to see them do that!)
Nevertheless, Lim's memorable debate performance certainly gives a shot in the arm to his team's chances in Sengkang GRC. Whether he enters Parliament or not, a new political darling is born.
---
SDP and the 10 million dollar question
The exchange between Chee and Balakrishnan, however, was much more feisty. In his question to Balakrishnan, Chee said that DPM Heng Swee Keat was 'toying with the idea' of having a population of 10 million people in Singapore, and that this had people anxious. This is in line with one of SDP's campaign pledges, which is to say 'No' to a 10 million population. Balakrishnan retorted that this was a 'falsehood' and definitively stated that Singapore's population would not even go up to 6.9 million, let alone 10 million.
Chee rebutted Balakrishnan, bringing up a Straits Times report which reported that Heng, in a 2019 event at the NTU Student Union Ministerial Forum, had cited former chief planner Liu Thai Ker, who was the author of the infamous 2013 Population White Paper that had raised the possibility of these population targets in the future. The visibly irritated Balakrishnan repeated that Chee was peddling in falsehoods, and called Chee's claims 'nonsense'.
So who's right? In the wake of the debate, both parties continued with their claims, with Chee posting the Straits Times article on his Facebook page and Balakrishnan citing the government's clarification. Heng also came out on his Facebook to deny Chee's claims that he said Singapore should plan to increase its population to 10 million. The PAP then said that SDP's election slogan of 'No to 10 million' was a 'falsehood [which] renders the campaign pointless, and calls into question the integrity of the whole party'.
Writer Sudhir Thomas Vadaketh then posted on his Facebook the transcript of the event where Heng had made his remarks, showing that Heng had indeed not made those claims, and that if the SDP's claim had any weight, it was perhaps due to a misinterpretation of a clumsily worded Straits Times report. However, questions must be asked why the government did not come out to clarify SDP's claims earlier (SDP's campaign started in April). Furthermore, ST had reported SDP's campaign slogan without bothering to fact-check its veracity.
Cheekily backtracking, the SDP then said that they had pressured the government to clarify its population target and that they had accomplished one of their campaign aims 'within Day 1 of [their] campaign'.
The 'no to 10 million' slogan has always been part of SDP's strange fixation on population targets, and hopefully, this whole saga puts it to rest. One wonders, though, just how much the SDP did…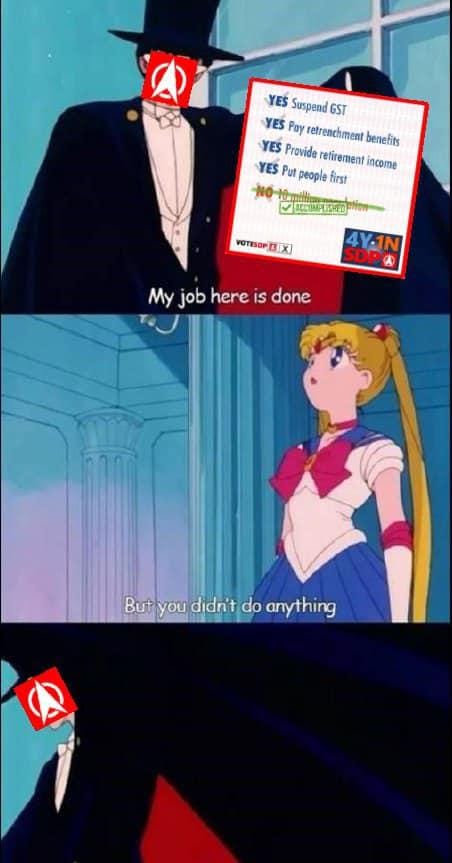 ---
---
The NCMP Scheme
The Non-Constituency Member of Parliament scheme has received much airtime in the news over the past few days. The scheme guarantees at least 12 opposition Members of Parliament with the best-performing 'losers' in each election from the opposition given a seat in Parliament if the number of elected opposition MPs is less than 12. NCMPs have full voting rights.
PM Lee raised the scheme to counter WP chief Pritam Singh's claim that there was a possibility of an opposition 'wipeout', with the PAP winning 100 percent of elected seats. This was again raised by the PAP's Indranee Rajah and Chan Chun Sing, who responded to Jamus Lim's remarks about denying PAP 'a blank cheque' by saying that the NCMP scheme guaranteed a diversity of views in Parliament.
However, opposition MPs have derided these remarks, with former NCMP Dennis Tan calling the scheme a 'poisoned chalice', as NCMPs do not have access to premises in PAP constituencies, and that losing PAP politicians continue to be grassroots advisers in their respective constituencies. PSP secretary-general Tan Cheng Bock also said that he would not take up a NCMP seat, calling it a 'ploy' to entice voters to vote for the PAP, and that MPs should all be elected.
Meanwhile, former WP NCMP Leon Perera 'did the math' and calculated that even if the opposition occupied all 12 seats, and that 9 NMPs voted with NCMPs, the PAP would still have 81.6% of every vote in Parliament, a supermajority allowing them to unilaterally change the Constitution.
For good explainers on the history of the NCMP scheme and why opposition politicians reject it, check out TODAY and SCMP.
---
In other news…
Somebody has introduced Tan Cheng Bock to the world of Instagram, and he (or rather, his social media team) has embraced it with gusto. It started with an Instagram post where he revealed that his glasses did not have lens, leading many users to call him a 'hypebeast' (someone who keeps up with the latest trends in fashion). Tan responded earnestly, saying that this meant he had been a 'hype Beast person for years'. He also attempted to teach his friend what the term meant:
Teaching my friend Craig what hypebeast means in Teochew.
The next day, he showed off his knowledge of a new term, 'woke', albeit a little unsuccessfully…
Good morning to my online friends
@monicabaey
@wendgoh
@xxnli
@ashposed
@fj.az
@charlenesu.
My other friend
@pardonmyfrxnch
taught me a new word. It's called WOKE. I just woke up but it's not the same meaning. I know...if you see me at a walkabout today, say hi and tell me im WOKE. But I might forget because it's a new word. See you at Bishan today.
This new method of engagement does seem to be working with younger voters, however. Tan's PSP has been criticised for not sufficiently reaching out to the younger demographic, so this is a welcome change. Now, how about a more substantive focus on policies that the youth are concerned about, such as climate change?
Meanwhile, Heng's East Coast Plan has been revealed! Turns out it IS called the 'Together We Care @ East Coast' plan: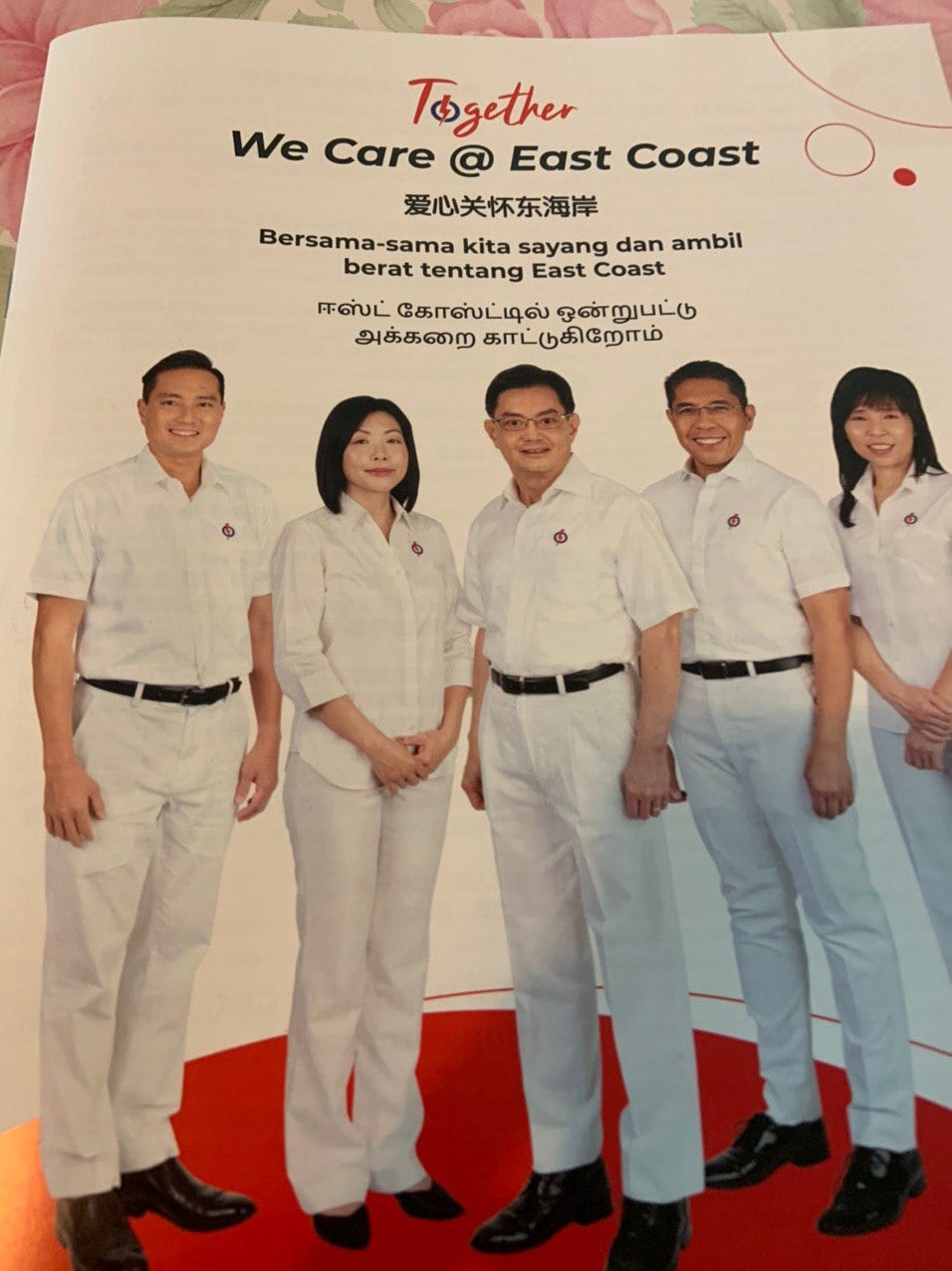 With a horrendous name like that, it's no wonder he garbled it on Nomination Day…