The PAP deploys their trump card, while Tan Cheng Bock goes for unity
We're entering the endgame now
Hi and welcome to one of the last issues of GE20Watch!
We're sorry to have to leave you so soon (blame the short campaigning period but honestly we're tired of the elections already). Today is the last day of campaigning before Cooling-Off Day, where we won't be publishing out of an abundance of caution. We'll be back with one more issue later today to wrap things up, and then do a post-election issue!
If you've found this newsletter useful so far, do share it on your social media so others can benefit as well!
---
The PAP's economic Dadd-, I mean expert, speaks
Senior Minister Tharman Shanmugaratnam gave a 45-minute live-streamed speech on the topic of creating an inclusive society. Touching on many aspects of the Singaporean economy, he said that the PAP would ensure every generation would be on a 'moving escalator' of skills and income. He also spoke about how Singapore's economic and social strategies were aimed at building a more 'fair and just' society and one with a 'stronger social compact', laying out plans such as more spending on preschool education and social security systems for the elderly.
Delving into his bread and butter, which is economics, he also elaborated about how Singapore's productivity had grown by 2.4 per cent per year per worker, translating to a one-third increase in productivity for the past decade, in line with the growth in median wage, which has grown by 32 per cent in real terms after accounting for inflation over the same period. He did, however, point out that sectors like the construction sector lagged behind other advanced countries, and the government would make an effort to address the issue.
Hitting back at greater calls for taxes on the wealthy, he said that this would cause rising inequality and greater taxes for the middle class as well. He cited how the average Singapore worker only paid 0 or 2 per cent income tax rate and the 7 per cent GST, whereas in advanced countries and Scandinavian countries, the average would pay up to 40 per cent of their income in tax. He ended his speech by urging the younger generation to chip in, take responsibility, and build a more inclusive society.
---
Leader of the Opposition?
PSP leader Dr Tan Cheng Bock has been criss-crossing the island in recent days to support his fellow opposition candidates, in what can be seen as an attempt to build opposition unity and a united front against the PAP.
First, he turned up at Pasir Ris-Punggol GRC to support his friend and SDA chief Desmond Lim, citing how Lim had helped him when PSP was founded, and he was there to return the favour. He took care to emphasise it was not an endorsement.
Next, he met up with SDP's Dr Paul Tambyah while campaigning, and both of them reiterated their willingness to debate PM Lee and Minister for Trade and Industry Chan Chun Sing about Covid-19. Tambyah shared how they had known each other for twenty years, and Tan shared how he was colleagues with Tambyah's father at Tan Tock Seng Hospital.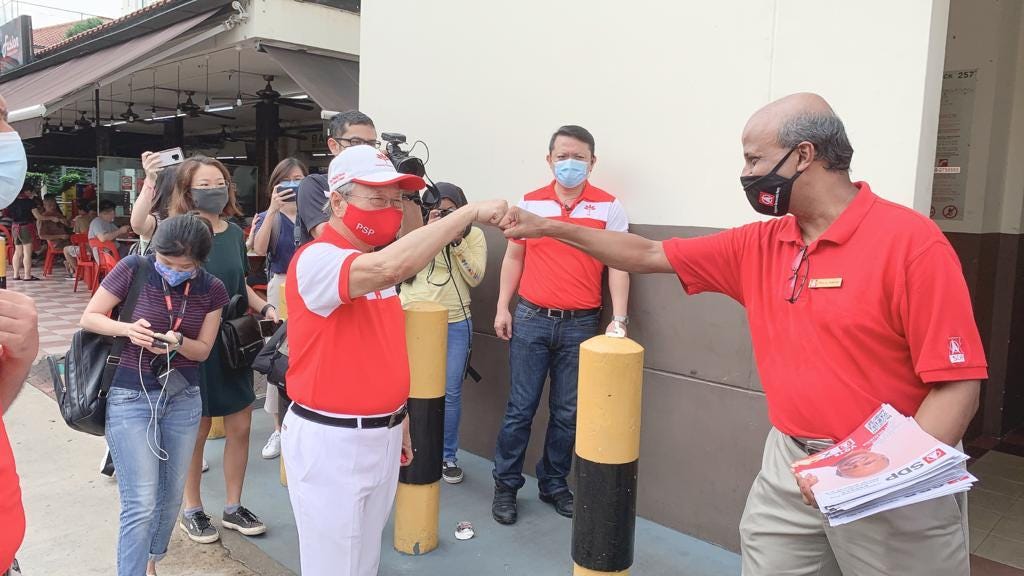 Image credit: Singapore Democratic Party Facebook
Finally, he questioned the timing of the police reports made against WP's Raeesah Khan about her social media posts, saying that they were made some time back. He said that 'they have been waiting for this moment' and called the whole affair 'gutter politics'.
Such a late surge of support from Dr Tan, one of the most credible figures in the opposition parties, is surely calculated, and could perhaps be a way to portray himself as some sort of opposition unifier. This also lends an image of the opposition as putting up a united front against the PAP, dispelling fears that an unruly and disunited opposition will take over Singapore in a 'freak election'.
---
In other news…
The Elections Department have refuted posts circulating online that ballot papers and self-inking pens have been treated so that marks on the papers will become 'invisible' after a few minutes. They emphasised that the ink is oil-based, and water and temperature resistant, and that ballot papers are printed under tight security conditions.
After a police report was filed against DPM Heng Swee Keat for his remarks at a student forum that Singaporeans were 'not ready' for a non-Chinese Prime Minister, the Attorney-General's Chambers have deemed that his remarks, 'in the context they were made', had no intent to wound anyone's racial feelings or promote enmity between different races.
Oh, so now context matters?
Meanwhile, the police are investigating the Facebook user who claimed to have shared the screenshots of Raeesah Khan's social media posts. He is being investigated for 'promoting enmity between different groups on grounds of religion or race'.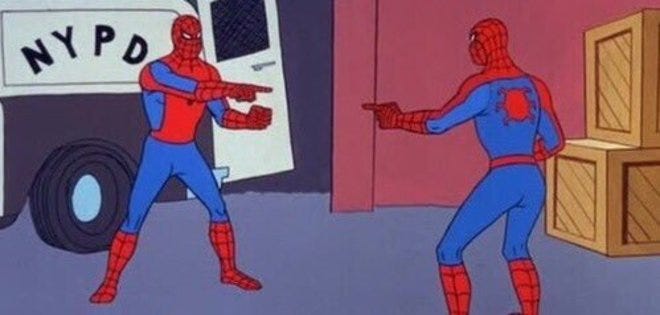 Meanwhile, Reform Party continued their wretched run with the Constituency Political Broadcasts with Kumar Appavoo, the RP candidate for Radin Mas SMC, failing to turn up to record his broadcast. RP chairman Andy Zhu apologised and said this was due to 'unforeseen circumstances', and that Appavoo would upload a broadcast on his own social media platforms.
Lastly, academics Dr Cherian George and Donald Low reflect on a particularly fractious campaign, and posit that while the PAP may inevitably win a strong mandate, the disruption caused by the Covid-19 pandemic means that more credible and active opposition members are needed for a wider diversity of ideas in Parliament, and not hardball tactics.
Finally, the PAP's insistence on a strong mandate strikes a discordant note. Yes, it should call for collective fortitude in the face of a debilitating crisis. But loyal citizens in a democracy have a right to support different parties. To equate national unity with voting PAP is precisely the kind of partisanship that can sow unnecessary division.