Parties unveil their candidates and gear up to campaign
If you wanted candidates from 'humble beginnings', boy do you got 'em
Hello and welcome to another edition of GE20Watch!
We've got a lot of new subscribers, welcome! You've joined at just the right time - we're in full flow of election proceedings, with parties releasing candidates fast and furious. Over the next few days, parties will stake their claim to various constituencies, reveal their newest faces, and get ready for the hustings to officially begin on 30 June, which is Nomination Day.
There's no time to lose, so let's get stuck in.
---
The Return of the FamiLee
Arguably the biggest drama of the past two days has been the announcement that Lee Hsien Yang, brother of Prime Minister Lee Hsien Loong, has joined the Progress Singapore Party (PSP). Lee, who is embroiled in a family dispute over their old family home at 38 Oxley Road with his brother, has been a long-running supporter of the party, which is led by former PAP MP Dr Tan Cheng Bock.
Lee did not confirm whether he would be running for election, though observers noted he is unlikely to, as the current climate does not favour the Opposition. Later in the day, the PSP released a short video featuring Lee, who gave a short speech. He said that it was possible to 'love Singapore' and not vote for the PAP, claiming that the party has 'lost its way'.
Whether Lee is running or not, his entrance into the political sphere turns the drama factor up to 11. Will the PSP use the moral appeal of Lee and play up the split in the Lee family? Or will the PAP attack PSP for using the family drama for political gain? Stay tuned.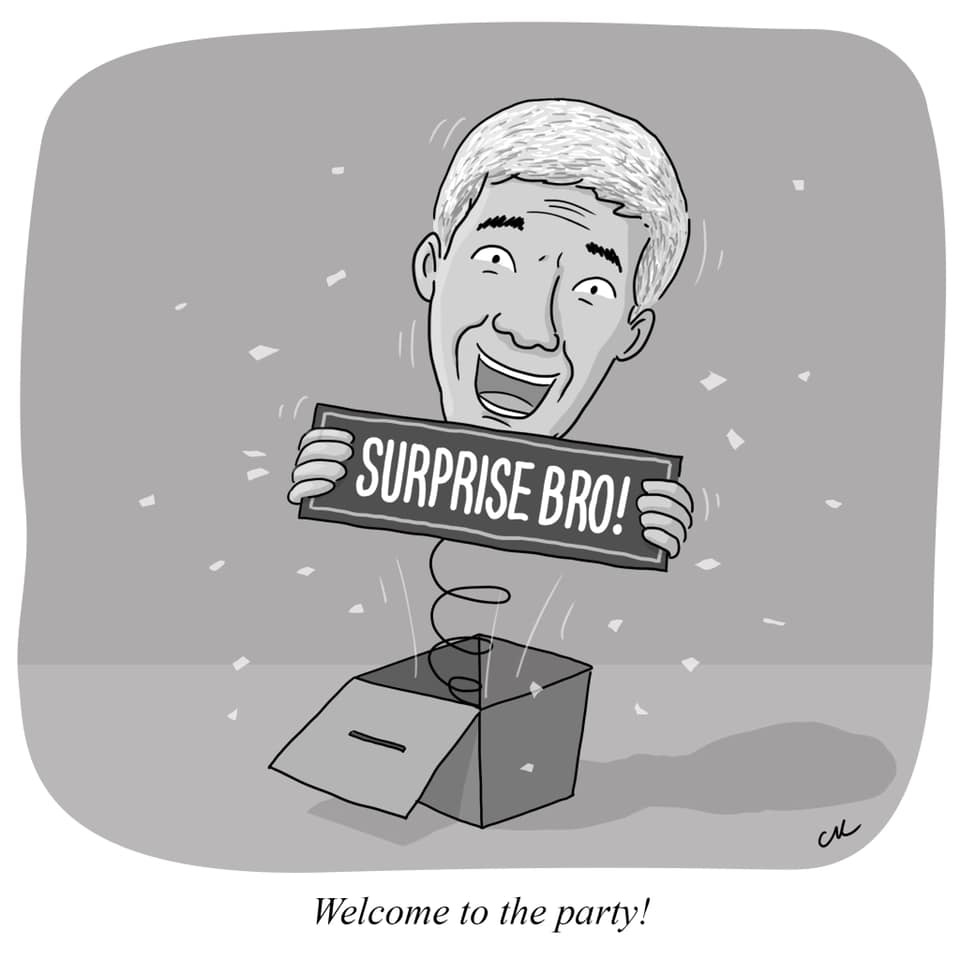 In the meantime, the memes are flowing/Image credit: SemiSerious
---
Workers' Party turn on the charm and long-running MP Low Thia Khiang bows out
Following up on their viral 'Coming Soon' video, the Workers' Party released a fuller video introducing some of their newest candidates. The video, which has received plaudits for its production quality and message, has gone viral on social media, and in this age of online campaigning, that's a huge coup for the WP.
The WP also formally announced that they would be contesting a total of 21 seats in this election: Aljunied, Marine Parade, and East Coast GRCs, as well as Hougang and Punggol West SMCs. The inclusion of Punggol West is a surprise, as they had not shown any previous interest in that seat, and the current MP in the area (which has been carved out of the larger Pasir-Ris Punggol GRC) is Sun Xueling, who is said to be very popular among the residents.
The WP also unveiled their first slate of candidates, formally confirming that Nicole Seah is back in the fold. Another notable inclusion is gig economy worker Muhammad Azhar Abdul Latip, perhaps hinting that the future of the gig economy is a key issue that WP may tackle.
Finally, party chief Pritam Singh revealed that long-running MP Low Thia Khiang will not run in the coming election, together with MPs Chen Show Mao and Png Eng Huat. Low, who had suffered a fall at home and was warded in the hospital recently, has been an MP since 1991. Former NCMPs Leon Perera and Gerald Giam will replace Low and Chen in Aljunied, while Dennis Tan replaces Png in Hougang. With this move, WP introduces a more youthful slant to its slate of candidates, but it remains to be seen whether their replacements will be strong enough to defend those constituencies.
---
We're halfway through! If you like what you see, give this newsletter a share!
And if you want to receive regular updates in your mailbox, click below to subscribe.
---
Emeritus Senior Minister Goh leaves the scene as the PAP refreshes its ranks
As for the PAP, ESM Goh Chok Tong announced that he would not run for election, ending his tenure as an MP in Marine Parade, where he has served for over 40 years. He recommended Dr Tan See Leng, his understudy, as his replacement. Goh joins Dr Yaacob Ibrahim in retirement, with other PAP MPs expected to make their exit announcements as well in the coming days.
Meanwhile, the PAP unveiled 19 new candidates across two days. Some notable faces include former People's Association (PA) chief Desmond Tan, as well as former IMDA CEO Tan Kiat How. What's more notable is the slant of the candidates' introductions: the candidates often spoke at length about their humble backgrounds and 'unconventional' educational pathways. For example, Don Wee enrolled in a diploma program in Ngee Ann Polytechnic and earned an accounting degree through part-time study. There also appears to be more candidates from the private sector. PAP assistant secretary-general Heng Swee Keat said that the PAP would put out a 'sufficiently diverse' slate of candidates, while PAP organising secretary Grace Fu said that more female candidates would be fielded this time around.
---
The Opposition consolidate their battlegrounds
The Reform Party (RP) and the National Solidarity Party (NSP) have given way to the PSP in West Coast GRC and Pioneer SMC respectively, avoiding the prospect of a three-way battle in those constituencies. The PSP also announced another five candidates, including two former military men. Kumaran Pillai, former publisher of The Independent Singapore, was also introduced, and confirmed that he would be running in Kebun Baru SMC.
Meanwhile, Red Dot United have presented two other candidates in addition to founders Ravi Philemon and Michelle Lee: author and entrepreneur Liyana Dhamirah, as well as legal engineer Nicholas Tang. RDU has announced plans to contest in Jurong GRC.
People's Voice announced that they would be fielding a total of 12 candidates in Jalan Besar and Pasir-Ris Punggol GRCs, as well as Pioneer, Mountbatten, and Punggol West SMCs. This sets them up for three-way fights with the Singapore Democratic Alliance in Pasir-Ris Punggol, as well as with PSP in Pioneer and the WP in Punggol West.
---
In other news…
LGBTQ rights group Sayoni released a scorecard grading politicians based on their views on LGBTQ issues. Top of the list was Law and Home Affairs Minister K Shanmugam, while Foreign Minister Dr Vivian Balakrishnan and People's Power Party secretary-general Goh Meng Seng were amongst those who received 'F' grades.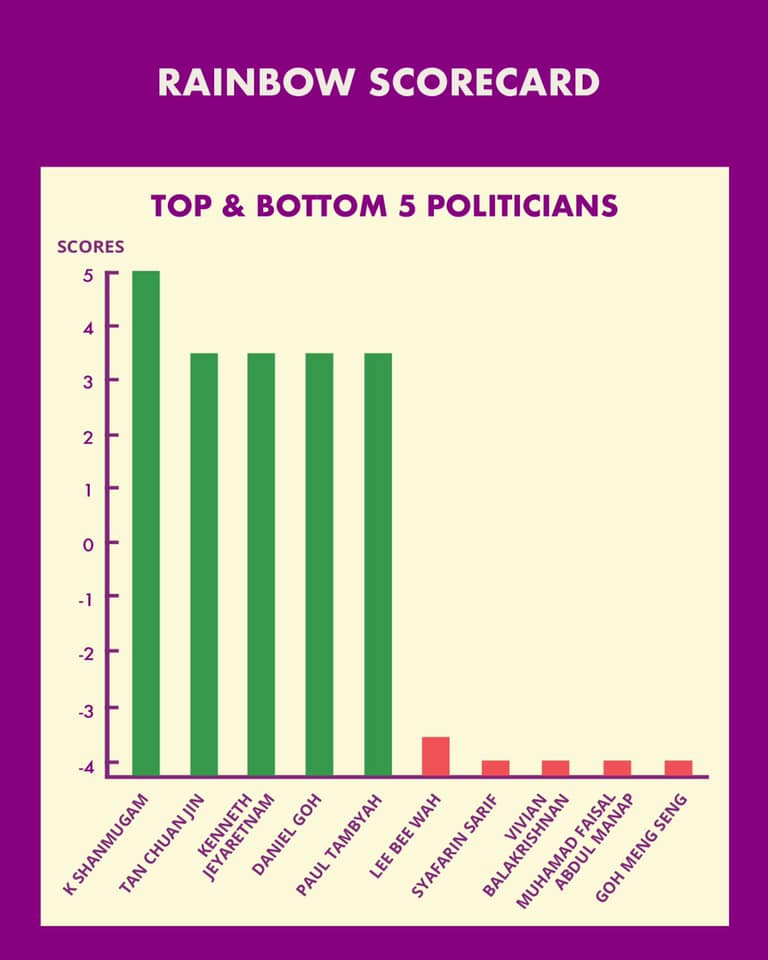 However, the scorecard has received some pushback from members and allies of the LGBTQ community:
The Elections Department also announced that constituency political broadcasts would air from July 3 to 7.
Also, the good folks over at Greenwatch have set up the Neighbourhood Greenwatch, an initiative to connect communities of voters in each constituency who are concerned about climate change, where they can discuss such issues and organise for climate action. Sign up at tinyurl.com/NGWatch.
And for a list of links to volunteer with political parties this coming election, check out this issue of the We, The Citizens newsletter.
Phew, that was a lot. Have a break, you've earned it. See you again soon.