Discover more from GE20Watch
Stay updated on the latest news about Singapore's next General Election!
Parties appear on the telly amidst gaffes galore
This is gearing up to be a bizarre election...
Hello and welcome to another edition of GE20Watch!
Parties are in the full flow of campaigning, and with less than a week to go before Polling Day, the next few days will be crucial. Just giving a plug to bit.ly/ge2020daily for being an excellent compilation of livestreams and other events happening daily.
From now until July 8th, there will be constituency political broadcasts aired on TV, radio, and online. The broadcasts will proceed according to the alphabetical order of the constituencies. Do try to catch your own constituency's broadcast if you can! If you haven't already received your polling card and figured out which constituency you are, click here to check.
---
Party and Constituency Broadcasts
Thursday night saw the first party political broadcasts aired, with the RP, NSP, PV, SDP, WP, PSP, and the PAP making their respective pitches to voters. The time allocated was according to how many candidates they are fielding in the current election.
Heng Swee Keat, representing the PAP, stated that his party was 'seeking a clear mandate' to lead Singapore through the crisis, and laid out his party's successes since 2015 in fixing transport problems and uplifting lower-income workers.
On the other hand, most of the opposition parties talked about the need to check the PAP, as well as pertinent issues such as the GST hike from 7 to 9 percent, inequality, and HDB issues. WP chief Pritam Singh said that opposition MPs would raise issues that the PAP would not, citing how WP MPs had done so for the Keppel Marine corruption scandal and the reserved presidency. SDP secretary-general Chee Soon Juan criticised the ministerial pay and summarised his party's 4Y1N campaign. PSP's Tan Cheng Bock restated how the PAP had 'lost its way' and how the party has people with experience running town councils.
To watch the party political broadcasts:
Meanwhile, the constituency political broadcasts kicked off on Friday. Each SMC candidate has 3 minutes to speak, while GRCs have a total of 12-15 minutes to speak, depending on the number of candidates they've fielded. Candidates can speak in any language for any period of time within the time limits. The Straits Times has a quick summary of Friday's broadcasts, but here are some more notable parts from Friday and yesterday:
The WP team spoke of the need to hold the government accountable and their track record running the town council, while reassuring voters that their financial position is 'healthy'. They also took aim at the limitations of the NCMP scheme, and called for voters to elect opposition MPs into Parliament.
The PAP team spoke of their work on the ground as grassroots advisers, and how Aljunied was not somebody's 'political hostage'. They cited examples of them helping residents in the area, and promised to set up a fund for disadvantaged children as well as a Jobs and Livelihoods Centre. They called for voters to 'bring us home'.
The PAP team led by PM Lee talked about improvement programs for the constituency, and how they would form a town council together with Yio Chu Kang and Kebun Baru SMCs.
However, the real 'star' was the RP team. With just 2 candidates there (RP chief Kenneth Jeyaratnam is on Stay-Home Notice while Darren Soh was sick, and Andy Zhu was absent), Charles Yeo spoke for most of the duration. His English speech talked about how the team would become full-time MPs to serve the constituency, and examine wasteful projects by the PAP.
His Mandarin speech, however, is worth catching:
In a bizarre, rambly, and incoherent speech punctuated with long pauses as Yeo appeared confused at what he was reading, he talked about speaking up about the many foreign students being awarded scholarships in Singapore. He also said that the PAP had 'abused' its citizens as well as the low-income elderly. He concluded by saying how the MPs which had full-time jobs did not care about their constituency duties because they earned a lot in their regular jobs, and so they 'slept' in Parliament.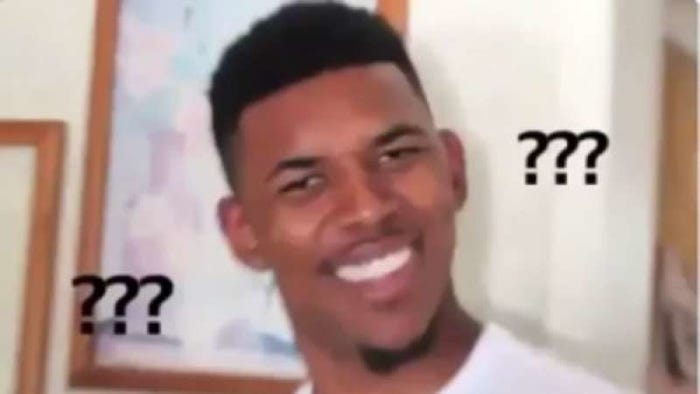 A hotly-contested area with SDP chairman Dr Paul Tambyah up against the PAP's Liang Eng Hwa, who replaces long-time MP Teo Ho Pin. Liang highlighted the improvements in the constituency such as LRT upgrading and bus services, and promised to work together with residents to improve their employability. Tambyah reiterated SDP's 4Y1N slogan, as well as concerns that residents had flagged to him such as lift upgrading delays. He also spoke about how the PAP was 'recklessly' risking public health by holding an election during the Covid-19 crisis, and how they wanted a repeat of the 2001 election after the 9/11 terrorist attacks to 'wipe out the opposition'.
Health Minister Gan Kim Yong called for the CCK 'family' to support his team, and pointed to the master plan for the constituency, which includes future goodies such as a new SAFRA clubhouse, a new transport hub, and more hawker centres.
The PSP team, led by former air force colonel Francis Yuen, started off with a strong statement that the PAP stated they wanted a mandate to fight the crisis, but what they were actually after was a 'strong mandate to stifle dissent'. Unfortunately, Yuen made a slight gaffe, closing off by saying that the 'PAP is a responsible party' before correcting himself with the party he's from.
The youngest candidate in the election, law undergraduate Choo Shaun Ming, cited a quote from Lee Kuan Yew urging young people to 'follow that rainbow', but opined that the rainbow no longer exists for young people, and spoke of the need to create more exciting job opportunities.
The most hotly anticipated GRC kicked off with DPM Heng Swee Keat highlighting the famed East Coast Plan and future developments such as the Thomson-East Coast line and Coastal Adventure Corridor: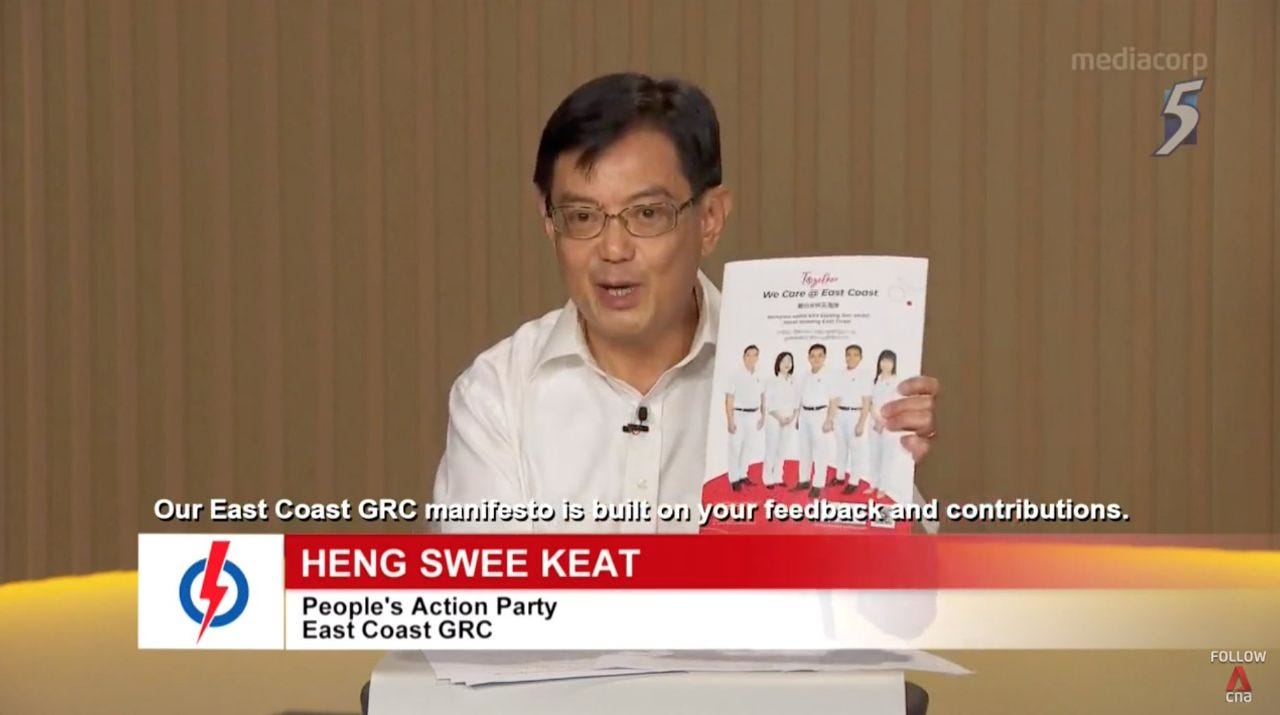 Other members of the GRC talked about digital clinics for seniors, employment and networking series, and job support programmes and help for SMEs.
The WP East Coast GRC team, led by Nicole Seah, talked about the need for 'bold structural and fiscal reforms', and more support for workers. Seah talked about widening access to universities for underprivileged Singaporeans, and cheekily added that a vote for WP would see 'both a WP MP and a PA (People's Association) grassroots adviser being equally present in your constituency'.
To watch the Constituency Broadcasts, check out this playlist here (it's updated daily).
---
---
PAP vs Chee Continues
The back-and-forth between the PAP and Chee Soon Juan continued with a PAP statement calling into question Chee's integrity over his 'false statement' that the government wanted to increase Singapore's population to 10 million people. The statement highlighted how Chee and the SDP 'dug their heels in' in repeating the falsehood, and wrote that they were 'disappointed but not surprised, for we knew Dr Chee has not changed, cannot change, and will never change'.
What happened to believing in redemption for people, eh?
The statement then used a particularly egregious analogy, saying that this example was akin to Chee claiming that 'you said you want to beat your spouse', and after you deny it and show proof that you have neither said it nor have beaten your spouse, Chee declares victory at having 'extracted a promise' that you have not beat your spouse. The statement also expresses their disappointment at Tambyah and Pritam Singh for echoing Chee's claims.
The analogy is eerily similar to an example Lee Kuan Yew gave in an old interview when asked to give his opinion whether the bombing of North Vietnam by the Americans was controlled or restrained (skilfully sidestepping the question itself):
Notwithstanding the fact that this analogy is somewhat inaccurate as SDP had based their claim off a Straits Times article that contained unclear reporting, the statement seems to make light of false accusations of spousal violence. Women rights group Aware issued a statement criticising the analogy, and said that it was 'insensitive to apply imagery of spousal violence to situations that have nothing to do with it'. Aware also called for political candidates 'to be mindful and responsible in their communications' throughout the election.
---
In other news…
Hwa Chong Institution (HCI) issued an internal advisory for JC1 and JC2 students to 'refrain from posting or re-posting' anything related to the elections on their 'private social media platforms' as well as any social media platforms associated with the school.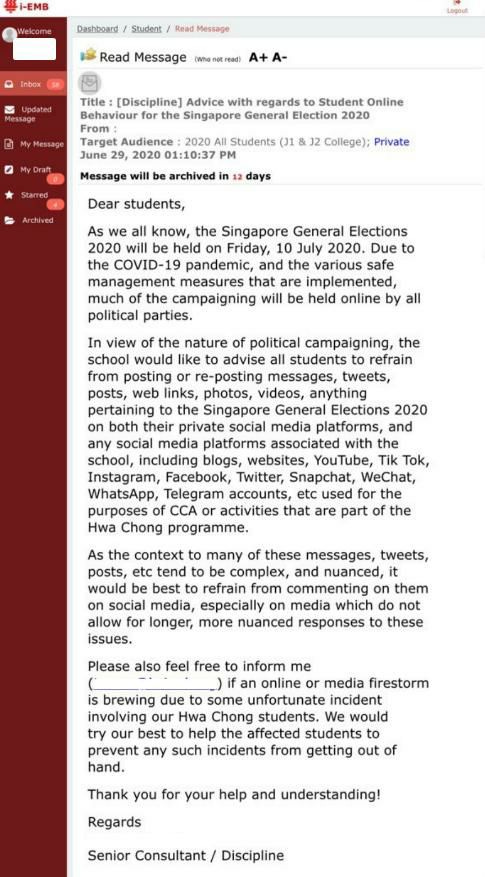 After this was met with a firestorm online, HCI doubled down, issuing a statement that stated how the school believed social media was not a suitable platform for students to discuss their views on national issues, as it did not allow for 'nuanced responses' to such issues and posts could be taken out of context. They also emphasised how their intention was 'not to silence students' voices' but to encourage students to engage in active discussions on such topics in a safe environment.
This has not satisfied many HCI alumni, however. It is also unclear what disciplinary action will be taken students should they proceed to do so anyway. Good luck stopping Zoomers and their fancams of Nicole Seah/Jamus Lim.
At a forum organised by the National University of Singapore Society (NUSS), representatives from opposition parties spoke about how the PAP was fearmongering by creating anxiety over a potential change of government, and dismissed the notion of the PAP losing a majority in Parliament. They also talked about the government's handling of the Covid-19 crisis, with Tambyah, an infectious diseases expert, noting how MOM had issued a statement telling employers that they were not allowed to bring workers living in dormitories for testing or risk losing their work passes. All agreed that it was irresponsible to call an election during the pandemic.
Meanwhile, Environment and Water Resources Minister Masagos Zulkifli added on to the list of candidates making gaffes this election:
Does he know something we don't?