Battle of the heavyweights at both Coasts, while SDP springs a surprise
4D chess or 8D backgammon?
Hello and welcome to GE20Watch!
Yesterday was Nomination Day, where parties formally submitted their documents to stand for elections in the various constituencies. It threw up quite a few surprises!
To check which parties and candidates are in your constituency, you can go to this interactive electoral map.
Without further ado, here are the more notable match-ups that yesterday threw up…
---
Heng vs Seah: Battle of the Titans
The most surprising news of the day was of course DPM Heng Swee Keat's shock move to helm the PAP team in East Coast. Left leaderless after veteran PAP member Lim Swee Say retired from politics, there were many rumours swirling about who would head the team there, before Heng turned up late on Tuesday morning. Astute observers noted that Heng's name was written in pen on the nomination forms, whereas his teammates' names were typed out, hinting at either a tactical switch or a panicked last-minute move.
Unfortunately, in his post-nomination speech, Heng flubbed part of it, which, in this internet age, quickly became meme-d: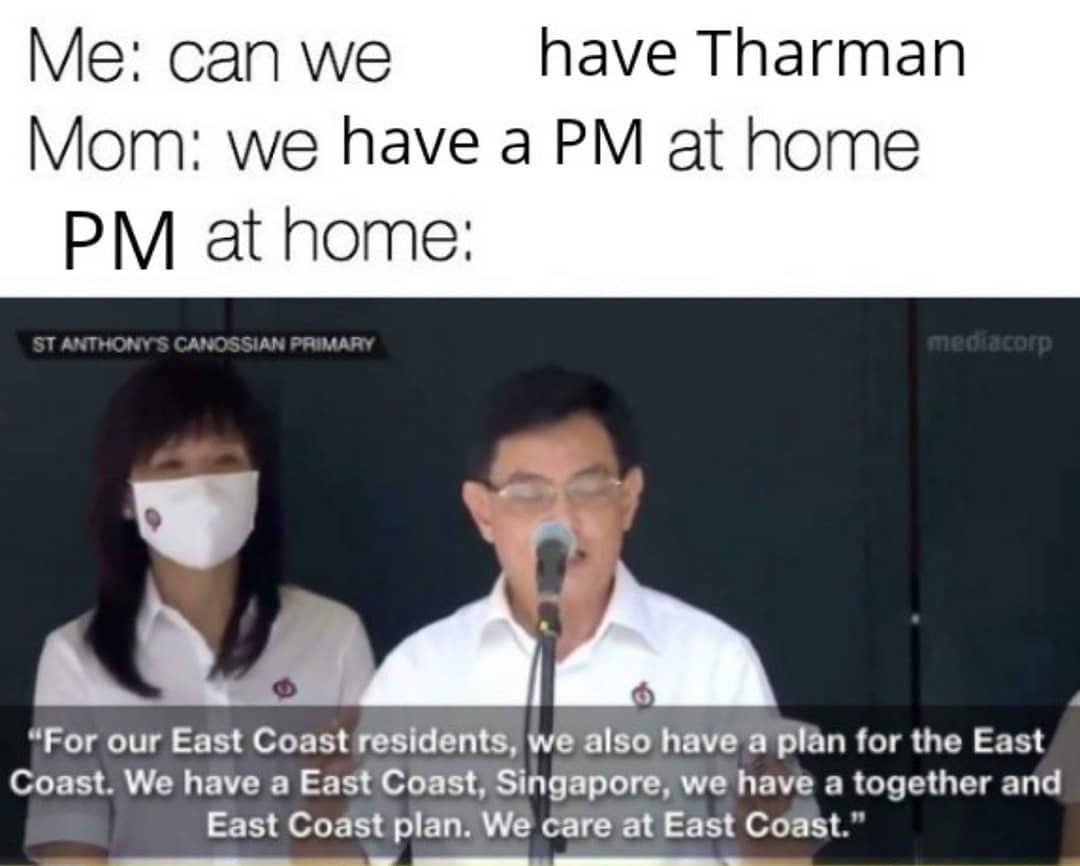 Image credit: Memedef Facebook
Heng will lead a team comprising of himself, SMS Maliki Osman, Jessica Tan, former Fengshan MP Cheryl Chan, and former IMDA CEO Tan Kiat How. They will go up against a WP team of Nicole Seah, Dylan Ng, Kenneth Foo, Terence Tan, and Shariff Kassim.
This match-up is hotly anticipated for a few reasons. For one, East Coast GRC has always been a traditional battleground between WP and the PAP, with the WP winning 45.2 percent of the vote in 2011 and 39.3 percent in 2015. While popular WP members Leon Perera and Gerald Giam have moved to Aljunied GRC to shore up the team there, the current WP team are also no slouches, with all of them except Shariff having prior electoral experience. Finally, Seah, who made waves in 2011 when she gave ESM Goh Chok Tong a hard fight in Marine Parade and impressed with her oratorical skills, is perhaps the most hyped candidate for the opposition this time around.
It is clear that East Coast will now be seen as a referendum on Heng, and more broadly speaking, the 4G leadership. Should Heng win with a smaller-than-expected vote count, this would be a signal of a lack of confidence in Heng by the people. Worst still, if his team loses to the WP, this would be a shock of incomparable proportions and would result in the loss of the PM-in-waiting.
For fans of Seah, it's bad luck that she has to go up against another heavyweight this time around. The odds are certainly stacked against her, but there is no doubt that she'll give it a good go. Whatever the result, this will surely be THE battleground to watch this election.
---
2 ministers and Tan Cheng Bock walk into a bar
Minister for Social and Family Development Desmond Lee has left Jurong GRC and will contest in West Coast GRC. He joins Minister for Communications and Information S. Iswaran, Foo Mee Har, Ang Wei Neng, and Rachel Ong. The PAP will go up against the PSP's "A" team, led by Tan Cheng Bock, and comprising of assistant secretary-general Leong Mun Wai, vice-chairman Hazel Poa, Jeffrey Khoo, and Nadarajah Loganathan.
This move signals that the PAP sees Tan as a real threat. While Tan's team aren't necessarily inferior in any way, it is clear that they are banking on his 26-year history in Ayer Rajah SMC to fly the flag for the PSP. Tan, who consistently garnered some of the highest vote percentages for the PAP during his tenure, will have it all to do in West Coast. But for the PAP, a formerly 'safe' territory is safe no more.
---
If you like what you see, give this newsletter a share!
And if you want to receive regular updates in your mailbox, click below to subscribe.
---
SDP with the switcheroo
SDP made a late tactical switch on Tuesday morning, with chairman Dr Paul Tambyah moving to contest Bukit Panjang SMC. He goes up against the PAP's Liang Eng Hwa, who replaces current MP Teo Ho Pin. Former SingFirst secretary-general Tan Jee Say replaces Tambyah in Holland-Bukit Timah GRC. He joins the SDP team of political scientist Dr James Gomez, Min Cheong, and Alfred Tan. They will contest the PAP's team of Foreign Minister Dr Vivian Balakrishnan, SMS Sim Ann, Christopher de Souza, and Edward Chia.
Tambyah revealed that the party conducted a vote (which sources say was highly contentious) for his move to the SMC. Expected SDP candidate for Bukit Panjang Khung Wai Yeen moves to Marsiling-Yew Tee GRC. It is uncertain if Tambyah is as familiar with the area as Khung, and whether he can gain enough support to win a SMC. However, it is notable that the SDP's most prominent candidates, Tambyah and Dr Chee Soon Juan, are now contesting in SMCs. Voters may be more incentivised to vote them in or show strong support for them to get into Parliament via the NCMP scheme.
---
Lee Hsien Yang will not contest
The biggest 'will he, won't he?' question was resolved early Tuesday morning as Lee Hsien Yang confirmed he would not be standing for elections. Giving the media a tease as he had breakfast with the PSP Tanjong Pagar GRC team, his name was ultimately not on the nomination paper.
Lee then posted a Facebook status saying that the country needed to move past dynastic politics and that "Singapore does not need another Lee". He said that he wanted to be involved in politics through speaking up and supporting candidates and parties he believed in, and that politics was 'the right and duty of every citizen'.
Despite him not contesting, expect Lee to play a big presence in PSP's campaigning over the next few days.
---
In other news…
Gan Siow Huang, Singapore's first female general and a new candidate for the PAP, will be contesting Marymount SMC. She will go up against the PSP's Dr Ang Yong Guan. Gan, who had initially been tipped to be contesting in Bishan-Toa Payoh GRC, is now deputy CEO of NTUC's Employment and Employability Institute. Her being fielded in a SMC on the first time of asking is a signal that the PAP has a lot of confidence in her, and also perhaps signals she is tipped for a future ministerial position - if she proves her worth in the election.
The newly carved out Sengkang GRC sees a tantalising face-off between the PAP team led by labour chief Ng Chee Meng and the WP team led by lawyer He Ting Ru. SMS Lam Pin Min, Amrin Amin, and Raymond Lye joins Ng, while the youthful WP team further comprises economist Jamus Lim, Louis Chua, and Raeesah Khan. Ms. He had contested Marine Parade GRC in 2015, but the other WP candidates are new. Lim and Khan have been receiving lots of social media traction, but it remains to be seen whether that will translate into votes.
Jalan Besar GRC sees a contest between the PAP team led by Manpower Minister Josephine Teo and People's Voice chief Lim Tean. Teo, embattled by the migrant worker Covid-19 crisis, is joined by Heng Chee How, Denise Phua, and Wan Rizal Wan Zakariah. Lim is joined by blogger and financial adviser Leong Sze Hian, Nor Azlan Bin Sulaiman, and Michael Fang. Questions will be asked if Teo is strong enough to head a GRC, but questions have also been asked of Lim's conduct the past few days (or months…or years…), with a voice recording of him purportedly saying how PV would "earn so much money" circulating around social media. Lim had also apparently not given SDA a "courtesy call" before deciding that PV would contest Pasir Ris-Punggol, setting up a three-way fight between SDA, PV, and the PAP. Lim is also representing Leong in a defamation suit against him filed by PM Lee.
Finally, Pioneer SMC sees a three-way fight - but not the one that was expected. Retiree Victor Ronnie Lai, also known as Mr. Sunflower, was expected to run as an independent candidate on a climate change platform. Unfortunately, he did not have enough people to second or assent to his bid. Instead, independent candidate Cheang Peng Wah, an unknown figure, threw his name in the ring. He will now do battle with the PAP's Patrick Tay and the PSP's Lim Cher Hong. Tay replaces incumbent MP Cedric Foo, who steps down after 19 years in the constituency.
And there you have it! All 93 seats will be contested, and this is shaping up to be a bruising battle on all sides. All the best to the parties and candidates, and we're in for an exciting nine days.