Hi and welcome to another issue of GE20Watch, an election watch newsletter that curates the latest news about Singapore's upcoming General Election.
As I write this, Malaysia's Pakatan Harapan (PH) government has spectacularly imploded, with rumours of PH defectors joining hands with UMNO-PAS over the weekend culminating in Mahathir's resignation as PM and chairman of his party, his party's defection from PH along with former Minister of Economic Affairs Azmin Ali's faction, and subsequently Mahathir's reinstatement as interim PM by the Yang di-Pertuan Agong (the King). As a result, the PH coalition no longer has enough MPs to form the government and have collapsed. The situation is still fluid but for a good explainer, you can read this by a Malaysian constitutional lawyer, as well as this more tabloid-y article by the Sarawak Report. What does this mean for Singapore's prospects of a 'PH'? Read on to find out.
A short update on Budget-related election news: opposition parties welcomed the government's move to delay the GST hike to 9%, but continued to question the need for such a hike in the first place. However, the GST hike might probably become less of an election issue as it is no longer as time-sensitive. Opposition parties may still include promises not to hike the GST to 9% in their election manifestos, but I think they will shift their focus to more pressing issues like housing prices or POFMA.
With the Covid-19 situation showing little signs of abating, I'm expecting the election to be postponed at least to September. As such, I'm going to be posting less regular updates, maybe once every two weeks, for now. This is also because I expect to be busy with work until around mid-April! So this will probably be the last issue focused on specific topics like the parties until then.
Nevertheless, if you want to stay updated on the latest news on the GE do click below to subscribe!
In the last issue, I went over the latest news for the Workers' Party and the Progress Singapore Party and analysed their prospects in the upcoming GE. This week, the focus is on the rest of the gang.
Singapore Democratic Party: a new, more youthful era?
The SDP launched their election campaign roughly a year ago, becoming the first party to do so. Since then, they've been busy. They have unveiled their new manifesto, held a pre-election rally at Hong Lim Park, and have released new policy papers on the education system, housing, climate change, and the healthcare system amongst other hot issues. Some of their proposed policies include scrapping the PSLE and nationalising pre-schools, and introducing Non-Open Market flats into the housing system (cheaper flats which can only be sold back to the government).
Some prominent new members have joined the party, such as Benjamin Pwee, former Democratic Progressive Party (DPP) leader, and the party has stated their intention to field younger candidates. They have also stated they will contest the same five constituencies as they did in 2015, namely Holland-Bukit Timah and Marsiling-Yew Tee GRCs, and Bukit Batok, Yuhua and Bukit Panjang SMCs, but with the electoral boundaries review committee report not out yet, it's anyone guess if these constituencies will still be around for the GE.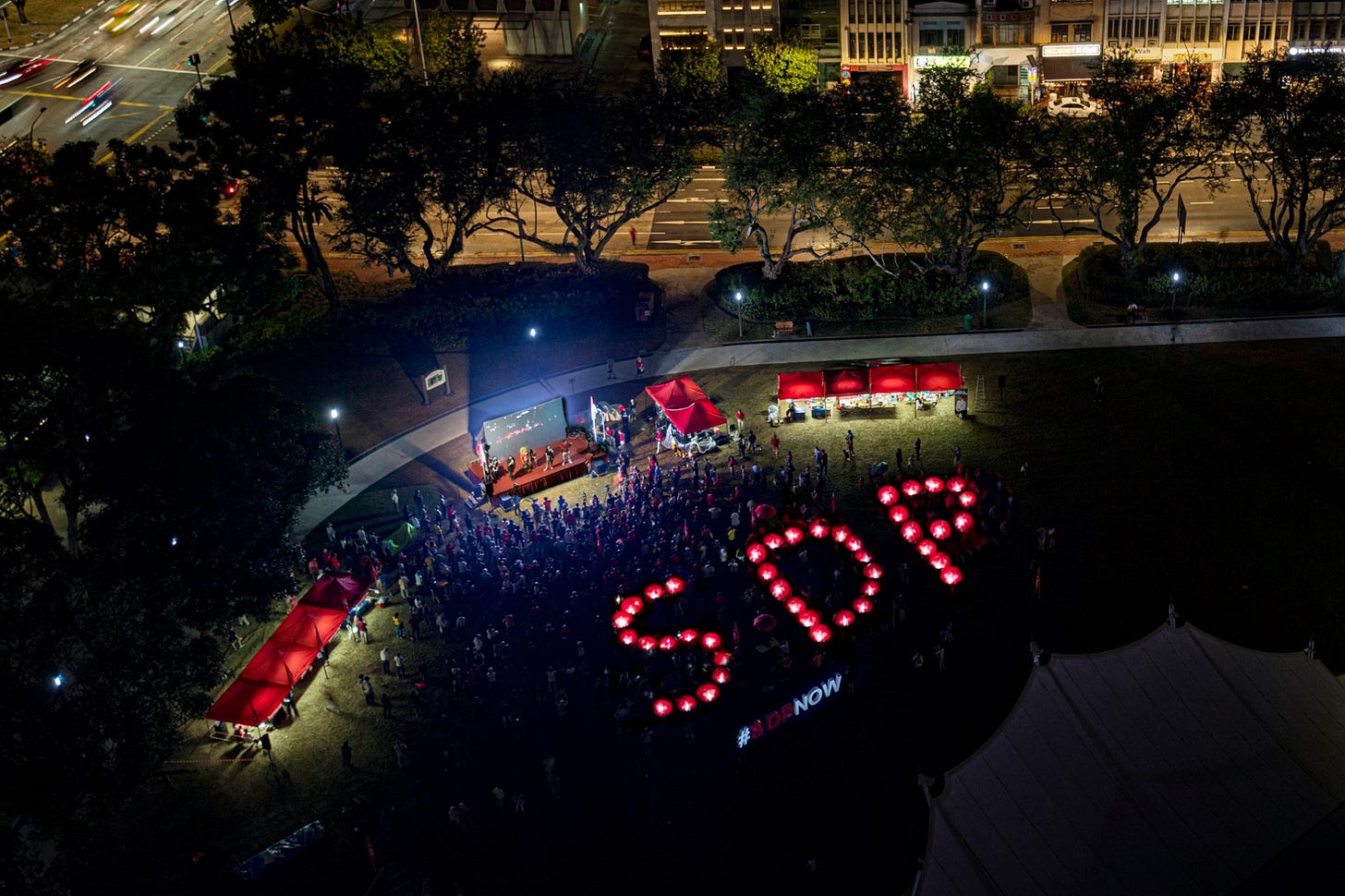 Photo: Singapore Democratic Party Facebook
To the SDP's credit, they have put in the hard work in releasing concrete policies and have a distinct ideological slant, which distinguishes them from other opposition parties. The focus on youth may also pay off somewhat as parties scramble to engage a more politically conscious youth cohort. However, as it is with every election, they will have to contend with winning over voters who may still be wary of Secretary-General Chee Soon Juan, who still has an unpopular image amongst large portions of Singaporean society due to his engagement in civil disobedience in the early 2000s and his fiery, confrontational persona. He rehabilitated this image somewhat in the 2015 elections, and will hope to finally enter Parliament this time around.
Chee notably called for opposition parties to coalesce around Dr Tan Cheng Bock as leader of an opposition alliance. This alliance did eventually come to fruition, albeit somewhat incomplete…
Opposition Alliance: Mosquitos and sinking boats, or actual contenders?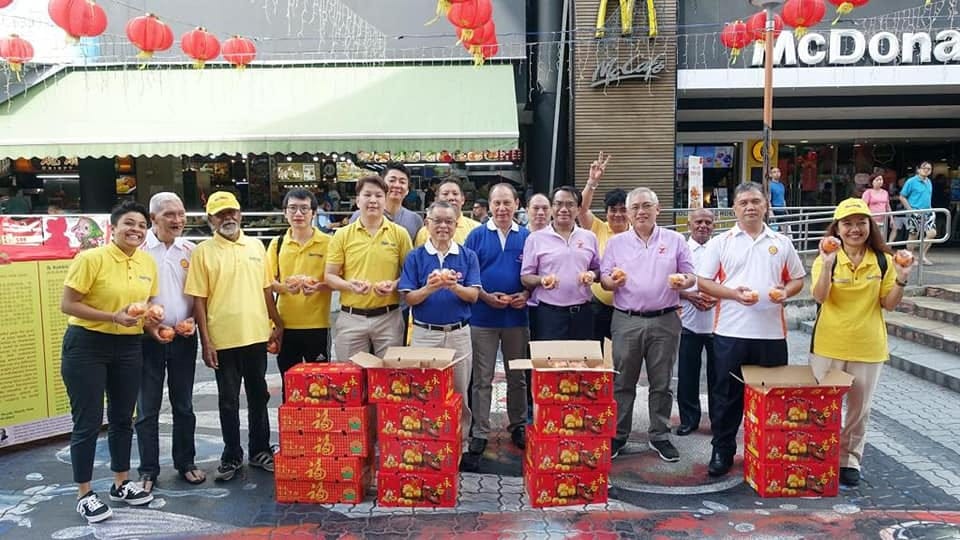 Photo: Goh Meng Seng Facebook
The Singaporeans First party (SingFirst), Reform Party (RP), People's Power Party (PPP), and Democratic Progressive Party (DPP) have announced that they will contest the GE under the same banner. They have not released any other details, except that Dr Tan Cheng Bock is still invited to come onboard and lead the alliance.
Reactions to the alliance have been largely pessimistic, with political observers calling them 'mosquito parties', and Alex Tan, one of the members on PSP's executive committee, describing the leaders of the parties as captains of 'sinking boats' joining hands to prevent themselves from drowning.
It is hard to see how these parties can gain any real political traction as they have had little success in previous elections, do not have a strong grassroots presence, are notoriously filled with big egos, and do not have a coherent unified ideological slant or image other than 'Boo to PAP'.
Well at least the NSP hasn't joined them (for now)
They have extended their invitation to all other parties to join the alliance, but it is hard to see the more successful parties like the SDP or WP accepting this invitation as it would be politically disadvantageous for them to do so, and Tan Cheng Bock will want to try and cultivate an image for the PSP alone rather than join an alliance for the time being. As mentioned above, the spectacular collapse of the PH alliance means that using it as an election pitch no longer holds any water, so they have one less example to make a case for their alliance.
And as for the already pre-existing Singapore Democratic Alliance, there is no news on whether they will be contesting this GE.
Chiam See Tong exits the stage, while the People have a new Voice
The Singapore People's Party (SPP) elected Steve Chia as their new secretary-general, who replaces long-time leader Chiam See Tong. A new Central Executive Committee was also formed, with Jose Raymond replacing Lina Chiam, who was the former chairman. Analysts said that this signalled a new era for the party, which has long been dominated by Chiam See Tong, who served as MP for Potong Pasir SMC from 1984 to 2011 and is widely regarded as one of the most famous opposition figures in Singapore.
The SPP has already rejected the invitation from the aforementioned alliance, perhaps signalling their intention to try and forge ahead on their own and moving out of Chiam's shadow.
Meanwhile, former National Solidarity Party (whose status is unknown as well) chief Lim Tean has set up a new political party, the People's Voice (PV). He has charted out a markedly different path for his party, claiming that they want to form the government immediately. Their party structure is also somewhat unorthodox, with Lim as Party Leader and no executive committee.
Lim is pursuing an unabashedly populist path, claiming to return Singapore to rule by 'direct democracy' through referendums, issuing a Trump-esque proclamation to Make Singapore Feel Like Our Home Again, and often using nativist calls to put Singaporeans first.
They also like to distribute bread for some reason/Photo: Lim Tean Facebook
One of these posts earned the ire of the government, as he was directed under POFMA to correct Facebook posts regarding MOE's spending on local and foreign students. This case is controversial, however, as while Lim was quite intentionally trying to play up the nativist angle by comparing a small portion of MOE's budget (grants and bursaries) and leaving out the majority of the budget which was spent on Singaporeans, he had cited technically correct statistics, albeit used misleading language by referring to the small portion as the 'total pot'. Hence, while he intended to be misleading, should POFMA have been used on him, since he had technically based his interpretations on facts? This is another debate altogether.
And that sums up the state of the opposition. It's a toss-up as to whether they can make gains on the PAP this time around, as conditions do not quite favour them, with the PAP having earned plaudits for their handling of the Covid-19 situation, and with a recession brewing, voters might flock to the 'safer choice'. The collapse of the PH government up north can be wielded by the PAP as a tool against the new opposition alliance that has formed. Still, the WP, PSP, and SDP have managed to maintain a strong presence and will be keen to try and nick seats off the ruling party. The smaller opposition parties would do well to avoid getting in their way as three-cornered fights will only favour the incumbent.
But it's still early days yet, and as we've seen in the past few days, the only certainty in politics is that it is tremendously uncertain. Stay tuned!
---
Thanks for reading GE20Watch! If you've liked what you've read so far, click below to share.
If you want to receive such posts via email on a regular basis, click below to subscribe.
If you have any questions or want to get in touch, you can reach me at ge20watch@gmail.com